SO... YOU WANT TO BE AN EDITORIAL STYLIST? PRESENTED BY MONAE EVERETT
Ever thought of using metal strips or pipe cleaners as a base to keep shape, add volume, and/or lift the hair?  How about using a posh wig style from another period of time to offset a modern look, or matching fabric from wardrobe to create a tied up 'do?  Editorial stylists sometimes use these bizarre but helpful tricks to pull together a hot look that lasts during a long day of shooting, sometimes with very little time for preparation.
On an editorial set, you have to bring your "A-game", and that means thinking creatively, using what you have to pull together a top-notch look, and working with the rest of the creative team to get it all done in lightning-fast speed.  There's no room for failure when the entire set -- photographer(s), wardrobe stylist(s), makeup artist(s), producer, creative director, and more -- heavily depend on you to bring the looks. After all, they don't call it a "glam squad" for nothing!  How can you ensure you play your part?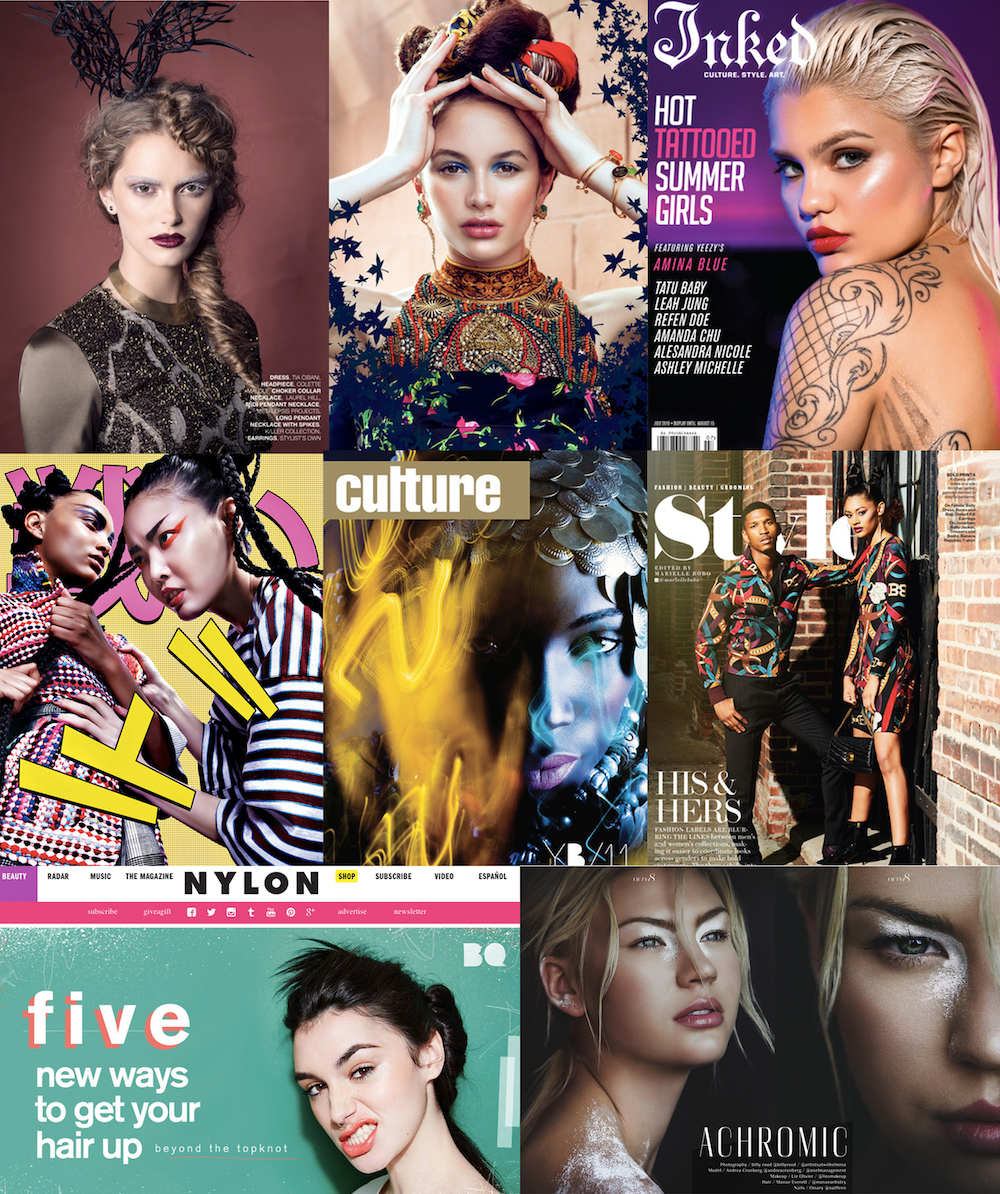 BE THE HAIRSTYLIST THAT EDITORS PERSONALLY REQUEST FOR THEIR SHOOTS AND EVENTS. BE THE HAIRSTYLIST IN HIGH DEMAND FOR RUNWAY SHOWS.
When your work speaks for itself, you can build an amazing reputation in the editorial world that can't be matched. Before you know it, you'll be creating beautiful looks for top magazines such as Harper's BAZAAR, ESSENCE, ELLE, Seventeen, Marie Claire, and Allure or showing off your hairstyles on the runways of Betsey Johnson, Tracy Reese, Custo Barcellino, Alice and Olivia, and more.
Styling hair for beauty shoots, fashion shows, television, and movies can be an exciting alternative to working behind a chair in a salon! However, there are a few things to learn before your upcoming shoot. If you've been trying to get your big break in editorial styling, read on. We've got what you need to know.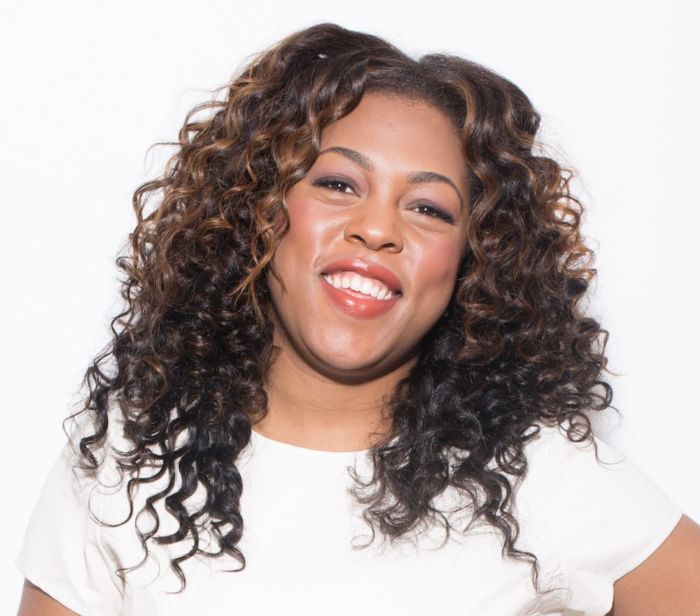 TOP NEW YORK EDITORIAL AND ON SET BEAUTY MASTER, MONAÉ EVERETT, IS JUST WHO YOU NEED GUIDING YOU THROUGH THE PROCESS, SO YOU CAN BE A TOP EDITORIAL STYLIST IN NO TIME.
Backed-up by 16 years of training and experience in the fields of beauty, fashion, and branding, Monaé is a beauty trailblazer and industry veteran who knows her craft. Her passion to make women look their best so they can feel their best, has turned her into a high-demand stylist where much of her work is heavily displayed throughout the world of editorial, on red carpets, television, print, and runway. Her amazing work has been displayed on such celebs as Lilimar Hernandez, H.E.R., Lizzy Greene, Skylar Diggins, Taraji P. Henson, Mariah Carey, Serena Williams and many more.
One of the many areas Monaé knows how to shine is the editorial world. Here are just a few of the national media giants that have featured Monaé's artistry in editorial styling:
| | | |
| --- | --- | --- |
| ESSENCE | Billboard | Inked |
| The Huffington Post | Rolling Out | NaturallyCurly.com |
| InStyle | The Washington Post | Sophisticate's Black Hairstyle Guide |
| Seventeen | Refinery 29 | Bossip |
| I-D | Nylon | Yahoo!/ Yahoo Beauty |
| Shape | Upscale | Hype Hair |
| Kneon | Redbook | Culture |
| Paper | Harper's BAZAAR | The Source |
Sometimes you just need to learn what you don't know to get where you need to be. The only thing that could be standing in the way of your perfect opportunity is proper education in the field. Don't fret.  Monaé has designed a master class just for you! Designed to teach you the tricks of the trade with her online bootcamp, "So... You Want to Be An Editorial Stylist?" This class covers everything you need to know.
HERE'S WHAT THIS AMAZING COURSE HAS TO OFFER:
MODULE #1: CAPTURING THE LATEST EDITORIAL AND RUNWAY HAIR TRENDS
Trends go as quickly as they come, but there is a way to ride the wave without falling too far behind the current. This session will teach you how to capture the current editorial and runway hair trends and how to even get ahead of the current by starting or predicting the next trends.  Next time, you'll know exactly whether it's sleek buns, finger waves, beachy curls, or undone braids that are editorial stand-outs this season.
MODULE #2: HOW TO STORYBOARD FOR YOUR NEXT SHOOT
Your big beauty or fashion photoshoot is coming up and it's your time to shine! To ensure a successful shoot, make sure that you nail it by creating a storyboard to help you organize details for your looks. Are you tired of participating in shoots and ending up unhappy with the final result? Editorial hairstylists need to know how to select the looks that narrate the story but also portray well on a variety of media materials, such as album covers, movie posters, print advertisements, tv shows, magazine spreads, celeb portraits, and digital promotions. Learn the basic steps to storyboarding, which includes 1) style inspiration 2) hero details (which details will be the main focus) 3) editing down the looks, and 4) creating a layout. Following these four steps for creating a storyboard will bring you one step closer to a successful and amazing fashion photoshoot that you can take pride in!
MODULE #3: DESIGNING, PREPPING & STYLING OF HAIR
When it comes to editorial styling, the mane matters just as much as the wardrobe and makeup. Today's hairstylist needs to be able to style a variety of hair textures, in a variety of ways by knowing a variety of hairstyling methods and products. As an editorial hairstylist, you must envision the hair and prep for the shoot with your styling tools by your side. You need to know whether you need the style to last all day through the elements or if you need to create multiple looks in one session for your model. Most importantly, you must learn how to work efficiently with the time that you are given so that you don't miss a beat. How do you do it all with limited time, with so many styles to choose from, and still come out with a hot, and polished look?  Learn about the steps of the hairstyling process through designing, prepping, and styling of hair in this informational and technical styling session.
MODULE #4: FINISHING HAIR TO PHOTOGRAPHIC PERFECTION
Ever wonder how some stylists achieve that high-gloss shine you see in photos, the perfectly coiffed curl, or the towering hairdo that stays in place on the runway?  They used tools of the trade, literally and figuratively.  From hot rollers to the state-of-the-art flat irons, they learned what tools work best to create the finishing touches to perfect their style. However, all tools aren't created equal.  Find out which tools are best for various styles and where to find these tools to perfect your next killer on-set looks.  There is no doubt the camera catches every angle and, additionally, every imperfection of a style, so be prepared ahead of time by planning your finishing touches.
MODULE #5: QUICK STYLE CHANGING DURING A SHOOT
Picture it: It's shoot day and the photographer is rushing your model off to wardrobe. Plus, makeup needs to put on a few finishing touches. You have just a few minutes; however, you haven't even finished straightening the other side of the model's hair because your flat iron was mistakenly unplugged and you have no time left to warm it up again. Time is ticking. WHAT ARE YOU GOING TO DO?  Don't let this be you!  Learn how to work within the time and at the same time as the other stylists. Get your model in and out for a smooth photoshoot. Learn what methods work best for the fast-paced life on set. With these tips, you'll be working at lightning speed. This class serves as one of the most important lessons in this series. Master quick style changing and you've mastered the first step of surviving any editorial set life challenge.
MODULE #6: ON-SET ETIQUETTE
Your job is to design the hair and prepare for the shoot without stepping on toes, but on-set there's an unspoken set of rules you absolutely must follow. This session is designed to help you tiptoe your way around waking the giant elephants in the room -- egos, attitudes, and on-set politics. Get the skills you need to last for those long days on set.
MODULE #7: COLLABORATIVE WORK WITH PROFESSIONAL ART-DIRECTOR, PHOTOGRAPHER, MODELS, MAKE-UP ARTISTS, AND DESIGNERS
Hairstylists are an integral part of the glam squad, but so are wardrobe, makeup, and more. For shoots, add photographers, videographers, and possibly editors, art directors, producers and more. Together, they help to craft a complementary style that will tie the entire look together from knowing how to use the lighting and angles in the photo to complementing your model's 'do to knowing what colors the fashion stylist uses so you may complement the colors or vibe of the wardrobe in the hairstyling process.  After all, teamwork makes the dream work! Find out how in this module.
"The creative world is growing and diversifying. We need more accessible, affordable, and quality education options for ambitious stylists so they learn the tricks of the trade properly in order to spearhead a successful path in the editorial styling field," says Monaè. "The industry craves stylist with the knowledge and skillsets needed to either showcase their artistry to acquire styling opportunities beyond the salon chair or to become a viral sensation among today's more trendsetting clientele."
SO, ARE YOU READY TO SECURE EDITORIAL FEATURES, PAID EDITORIAL STYLING GIGS AND STANDOUT MARKETING CONTENT TO PROMOTE YOUR SERVICES?
Take advantage of this amazing editorial class from one of the best -- Monaè Everett.  BUY THIS groundbreaking Online Bootcamp that's sure to place you on the fast track to becoming one of nation's elite, sought-after stylists.
REGISTER NOW
Don't Delay, Get Ready For Your Editorial Slay!
MONAÈ EVERETT
ABOUT THE INSTRUCTOR
Monaè Everett is a hair stylist with over 18 years of experience. Her work can be seen in media, including Harper's Bazaar, Yahoo!, ESSENCE,  InStyle, Seventeen, and Billboard to name a few. She has worked with celebs including Taraji P Henson, Lizzy Greene, Naomie Harris, Connie Britton, Lilimar Hernandez and Emily Robinson to name a few. Driven by her love to make women look and feel amazing, she recently released her first book, Stunning Braids. To learn more about Monaè's success as a seasoned on-set hairstylist, visit www.TheMonaeLife.com, www.MonaeEverett.com or follow her on Instagram @MonaeArtistry.
Monae@monaeeverett.com